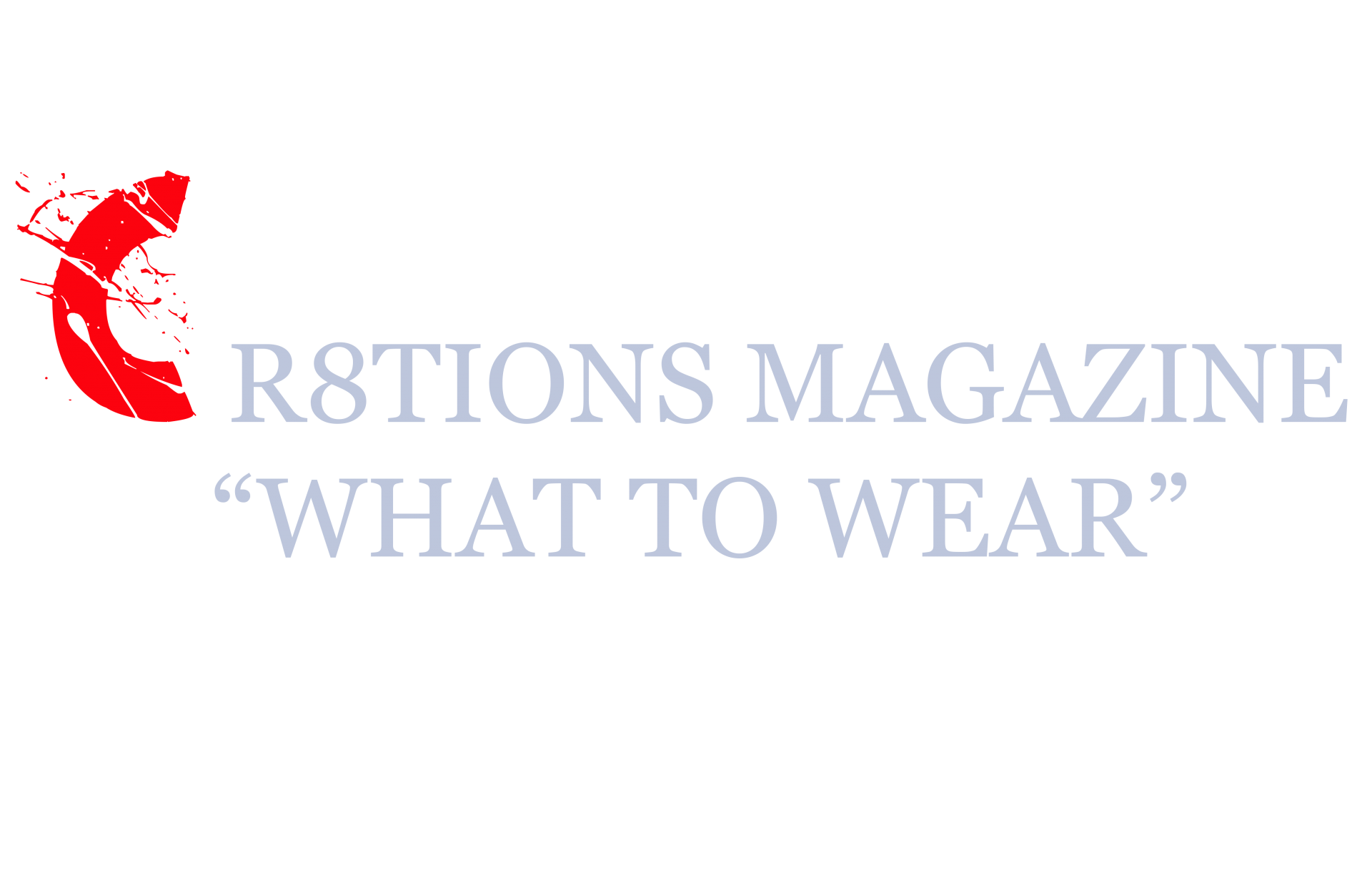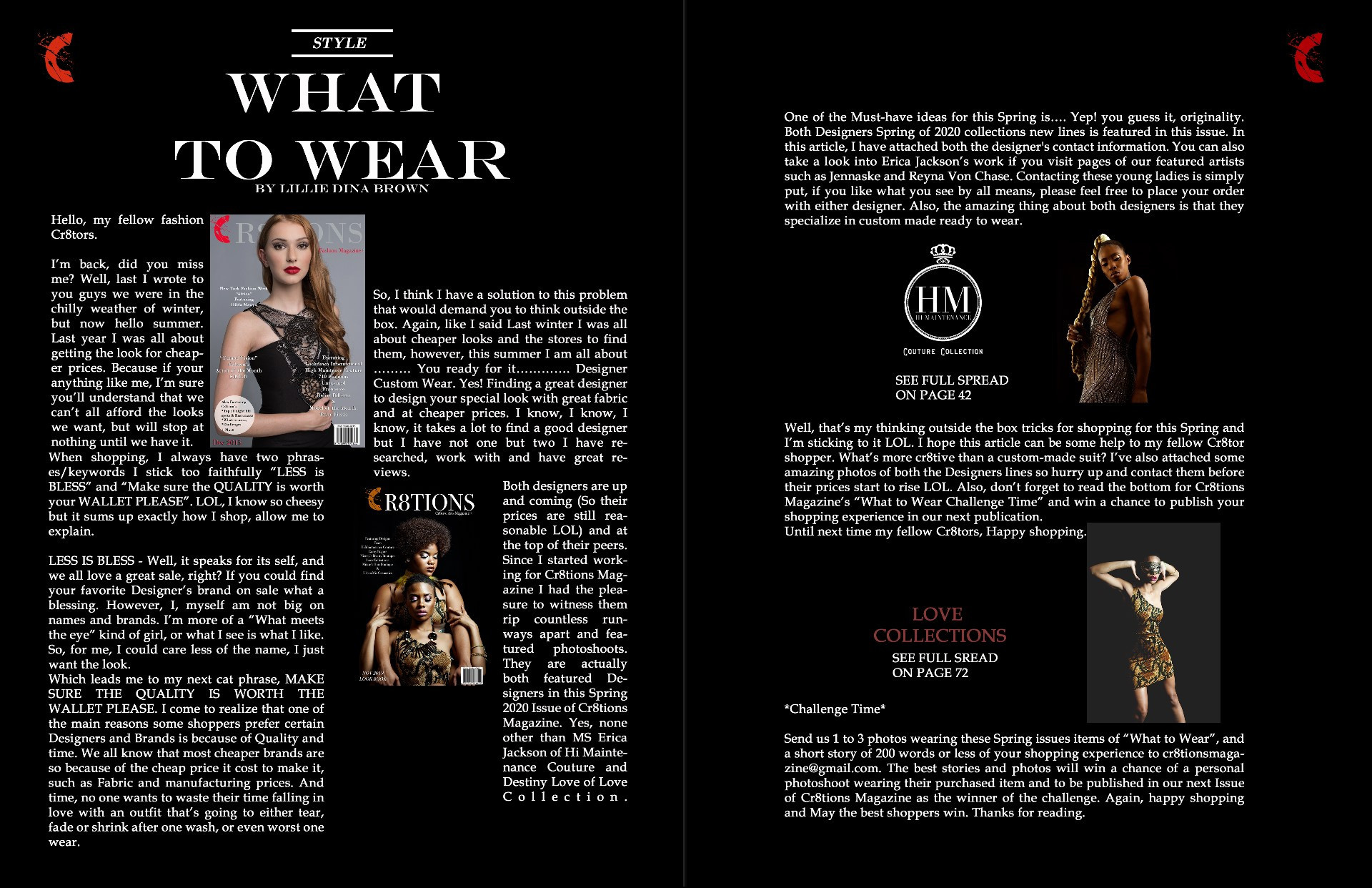 (as seen in our spring 2020 issue)
Hello, My Fellow Fashion Cr8tors.



I'm back, did you miss me? Well, last I wrote to you guys we were in the chilly weather of winter, but now hello summer. Last year I was all about getting the look for cheaper prices. Because if your anything like me, I'm sure you'll understand that we can't all afford the looks we want, but will stop at nothing until we have it. When shopping, I always have two phrases/keywords I stick too faithfully "LESS is BLESS" and "Make sure the QUALITY is worth your WALLET PLEASE". LOL, I know so cheesy but it sums up exactly how I shop, allow me to explain.



LESS IS BLESS - Well, it speaks for its self, and we all love a great sale, right? If you could find your favorite Designer's brand on sale what a blessing. However, I, myself am not big on names and brands. I'm more of a "What meets the eye" kind of girl, or what I see is what I like. So, for me, I could care less of the name, I just want the look.



Which leads me to my next cat phrase, MAKE SURE THE QUALITY IS WORTH THE WALLET PLEASE. I come to realize that one of the main reasons some shoppers prefer certain Designers and Brands is because of Quality and time. We all know that most cheaper brands are so because of the cheap price it cost to make it, such as Fabric and manufacturing prices. And time, no one wants to waste their time falling in love with an outfit that's going to either tear, fade or shrink after one wash, or even worst one wear.



So, I think I have a solution to this problem that would demand you to think outside the box. Again, like I said Last winter I was all about cheaper looks and the stores to find them, however, this summer I am all about ……… You ready for it…………. Designer Custom Wear. Yes! Finding a great designer to design your special look with great fabric and at cheaper prices. I know, I know, I know, it takes a lot to find a good designer but I have not one but two I have researched, work with and have great reviews.
Models: Dutchess & Simoine
tear page From Our Spring 2020 Issue
Designer: Erica Jackson of hi maintenance
Both designers are up and coming (So their prices are still reasonable LOL) and at the top of their peers. Since I started working for Cr8tions Magazine I had the pleasure to witness them rip countless runways apart and featured photoshoots. They are actually both featured Designers in this Spring 2020 Issue of Cr8tions Magazine. Yes, none other than MS Erica Jackson of Hi Maintenance Couture and Destiny Love of Love Collection.

One of the Must-have ideas for this Spring is…. Yep! you guess it, originality. Both Designers Spring of 2020 collections new lines is featured in this issue. In this article, I have attached both the designer's contact information. You can also take a look into Erica Jackson's work if you visit pages of our featured artists such as Jennaske and Reyna Von Chase. Contacting these young ladies is simply put, if you like what you see by all means, please feel free to place your order with either designer. Also, the amazing thing about both designers is that they specialize in custom made ready to wear.

Well, that's my thinking outside the box tricks for shopping for this Spring and I'm sticking to it LOL. I hope this article can be some help to my fellow Cr8tor shopper. What's more cr8tive than a custom-made suit? I've also attached some amazing photos of both the Designers lines so hurry up and contact them before their prices start to rise LOL. Also, don't forget to read the bottom for Cr8tions Magazine's "What to Wear Challenge Time" and win a chance to publish your shopping experience in our next publication.
Until next time my fellow Cr8tors.
Happy shopping.
Models: quasha & kiki
tear page From Our Spring 2020 Issue
Designer: destiny love of love collections
*Challenge Time*

Send us 1 to 3 photos wearing these Spring issues items of "What to Wear", and a short story of 200 words or less of your shopping experience to cr8tionsmagazine@gmail.com. The best stories and photos will win a chance of a personal photoshoot wearing their purchased item and to be published in our next Issue of Cr8tions Magazine as the winner of the challenge. Again, happy shopping and May the best shoppers win.
Thanks for reading.